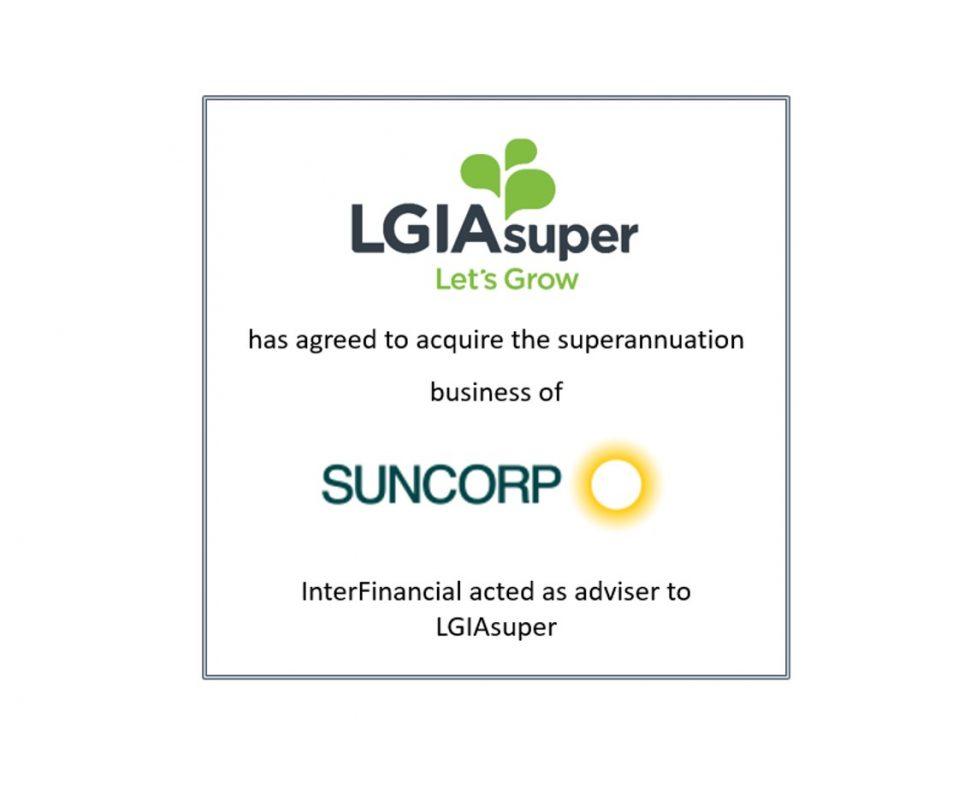 InterFinancial helps LGIAsuper deliver Suncorp acquisition and member value
01.6.2021
InterFinancial has advised LGIAsuper on its successful bid and agreement to acquire Suncorp's superannuation business, Suncorp Portfolio Services Limited (SPSL).
The acquisition, announced in April 2021, makes history, being the first Australian profit-for-members super fund to acquire a retail super fund.
LGIAsuper members will benefit from increased size, scale and, ultimately, reduced costs with the acquisition of SPSL, which has $6.4 billion in funds under management and 137,000 members (as of 30 December 2020) in 2022.

LGIAsuper has been the superannuation fund for Queensland local government employees and their spouses since 1965, and provides highly recognised superannuation services, trusted advice, low fees and industry-leading performance.
InterFinancial Executive Chair Sharon Doyle said the transaction was the latest milestone in LGIAsuper's plan to grow and improve the fund, and to ensure its long-term sustainability and performance for members.
"Our brief was to help LGIAsuper qualify SPSL as a target, lead the commercial engagement with Suncorp and the business case analysis with LGIAsuper, and importantly work creatively to 'find the solution' as we identified obstacles," Ms Doyle said.
"The LGIAsuper CEO and Board were incredibly commercial and demonstrated a willingness to break new ground in order to deliver great outcomes for members. This preparedness to embrace innovation was critical to our ability to deliver this outcome for LGIAsuper".

​LGIAsuper CEO Kate Farrar said an extensive due diligence process, regulatory consultation, and analysis of member benefits had concluded that the Suncorp acquisition would ultimately provide significant advantages to current and future members of LGIAsuper, Energy Super and Suncorp's superannuation business.
"This acquisition, combined with the Energy Super merger, will achieve an ideal, sustainable fund size, while maintaining our status as a boutique and personal superannuation provider," Ms Farrar said.

Ms Farrar said InterFinancial had represented LGIAsuper throughout the process, from preparing the bid, to managing the due diligence process, and assisting with the SSA negotiation.
"InterFinancial's contribution to this process was absolutely pivotal at all stages," Ms Farrar said.
"Sharon and her team rolled up their sleeves and were outstanding at representing the interests of LGIAsuper and its members through a complex, industry-defining process.
"This transaction represents an innovative way for a profit-for-members superannuation fund to achieve scale in a rapidly changing market, solving a problem that superannuation funds across Australia have been struggling to solve."
On completion of the acquisition of SPSL and LGIAsuper's merger with Energy Super the combined fund size is expected to be circa $28 billion, with approximately 250,000 members.
The total consideration for the acquisition is estimated at $45 million. This includes a fixed amount of $26.6 million, plus regulatory reserves.