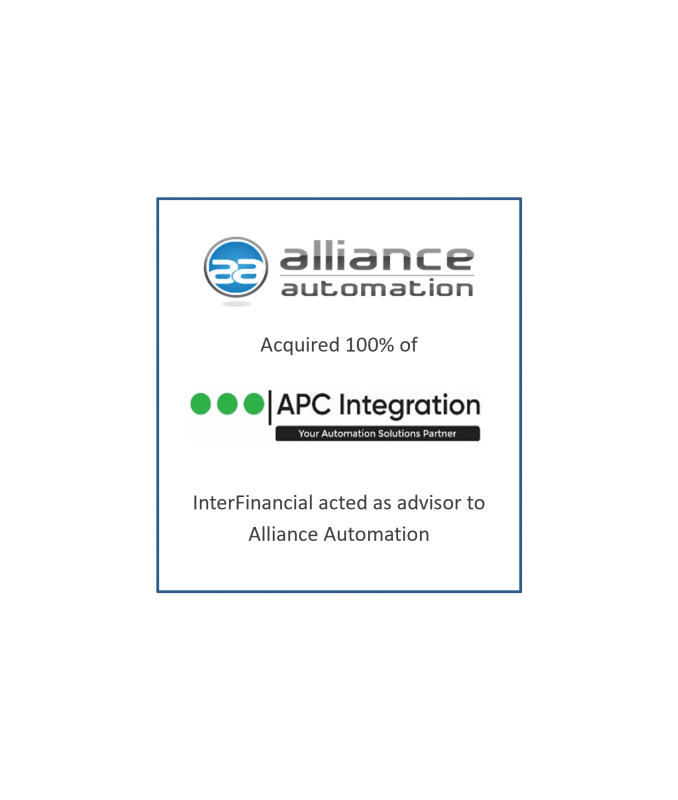 Alliance looks to integrate APCI
15.7.2021
Alliance Automation, the industrial automation and electrical engineering company has acquired 100% of APC Integration, the Adelaide-based firm which has been delivering electrical and automation solutions across Australian and International markets for 37 years.
InterFinancial previously advised ERM Power in their 50% acquisition of Alliance Automation and has now advised Alliance on the acquisition of APC Integration.
Servicing a broad range of industrial sectors and highly specialised niche markets, APCI are a quiet achiever committed to producing bespoke, efficient and value-based solutions for their customers.
APCI has always evolved to meet the demands of its customers by producing quality Industrial Automation solutions, often in highly technical and specialised vertical markets.
Over the last 37 years APCI's skills and expertise have been applied various sectors; they have a strong focus in the water industry being awarded one of five positions on the SA Water Automation Panel. More broadly, they have provided services to the fruit packaging industry, high speed steel processing lines, and stage shows (including the Sydney 2000 Olympics Opening Ceremony).
Alliance Automation, founded in 2010, is now a team of more than 250 people and offices in Queensland, New South Wales, Victoria, South Australia, and Western Australia, delivering value-added industrial automation solutions, consultancy and support to customers in a range of sectors including manufacturing, infrastructure, water and waste-water, oil & gas, and mining.
With the support of Alliance, APCI will be able to confidently tackle larger and more complex projects not only in the water industry but also other diverse and interesting industries where the skills and expertise from both companies can be combined.
Alliance welcomes APCI's next evolution by joining with Alliance Automation.