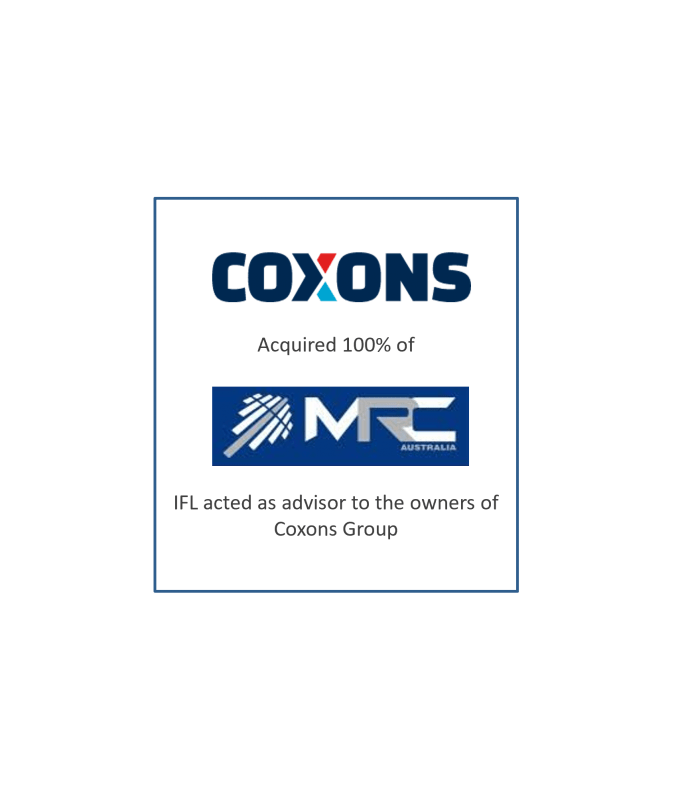 InterFinancial advises Coxons Group on its acquisition of MRC Australia
19.8.2021
InterFinancial Corporate Finance would like to congratulate for Coxons Group Australia on its successful acquisition of MRC Australia.
Coxons Group Australia is a privately owned company specialising in the service and maintenance of all cooling system components, specifically radiators and coolers for mining and industrial applications. Coxons Group has been the industry leading service provider on the east coast for over 25 years, including establishing a market changing service exchange program in 2014. Coxons currently has 80 staff members across its four sites in Rockhampton, Newcastle and Mackay, with more to come through the MRC acquisition.
MRC Australia was a privately owned company specialising in the service and maintenance of heat transfer units, specifically industrial radiators. Strategically situated with facilities in Central Queensland and the Hunter Valley of NSW, MRC Australia has a direct service route to the major mining basins of NSW and QLD. MRC has several Tier 1 clients in the Australian mining industry, providing solutions and parts from major original equipment manufacturers (OEM) such as Komatsu and Caterpillar.
The acquisition provides significant scale to the group, making Coxons Group the largest cooling solutions service and maintenance provider on the east coast of Australia. Coxons Group's clients will now have access larger pool of exchange assets and unified service, with four workshops strategically located across the east coast. The companies will continue to operate under their respective titles as they grow together in the second half of 2021.
"Bringing Coxons and MRC together creates a stronger foundation and better opportunities for our business, people and customers," Coxons Group managing director Joel Heazlewood said.
He said MRC represented a rewarding opportunity for deeper reach into an established market.
"Regional and sector expansion are key elements of our growth strategy, so we're excited by the long-term growth opportunities," Mr Heazlewood said.
"This acquisition deepens our connection to the Mackay and Singleton communities – and the broader Bowen Basin and Hunter Valley mining regions."
InterFinancial are proud to have worked with Coxons Group over an extended period to help assess options for strategic growth, to implement business improvement measures, and providing management support through interim CEO and CFO positions. As a long-term client, we are delighted to have acted as lead advisor to Coxons Group and to have successfully executed a strategic acquisition of MRC Australia to unify the two leading businesses.
The transaction value was undisclosed.